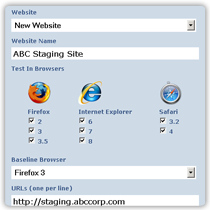 Submit Test
Select the browsers you wish to test and the URLs for your site and then let Browsera handle the testing.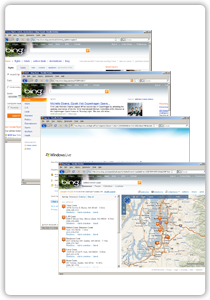 Crawl Site
Testing multiple pages on your site is easy, because Browsera can automatically crawl pages within your site.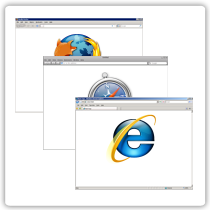 Render Pages
Browsera will render the pages in your site in the browsers you've selected. Don't worry, it will wait for scripts on your page to finish.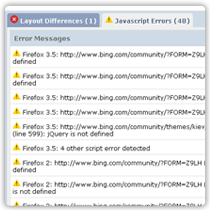 Log Script Errors
Unhandled scripting errors on your page can cause weird things to happen or loss of functionality. Browsera collects these from the browsers and reports them back to you.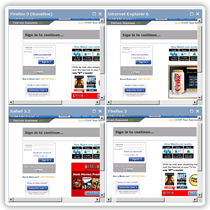 Take Screenshots
We'll take a screenshot of each page in each browser, and make it available to you in full resolution.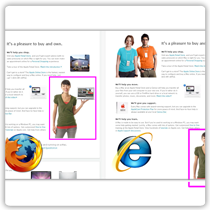 Compare Layouts
This is our secret sauce. We compare each browsers layout information to find visual discrepancies occuring due to browser differences.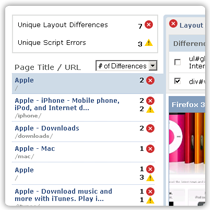 Generate Report
Once the test has completed, a report will be generated documenting the differences in layouts and any scripting errors.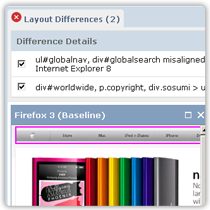 Review Results
Come back to review the test results and flag any false positives so they won't appear in the future.
Browsera is different from other cross-browser testing services. Services such as Litmus, Browsershots, BrowserLab, and SuperPreview merely generate screenshots for a particular page which you must then analyze, one by one. Browsera goes much further to actually do the testing for you.
Browsera analyzes and compares the pages for you, using sophisticated algorithms to detect unsightly layout issues. This means you get a concise report of which pages have problems, saving you time and improving your site's compatibiltity across browsers.